Which living American has done the most to articulate theories of social change and to walk the talk? For me, the answer is hands down, Angela Davis.
Like Noam Chomsky, another leading public intellectual, Davis is largely ignored by the mainstream press–a fact easily explained by her brilliant critiques of neoliberalism and its vast inequalities. Overseas it's a different matter. Angela Davis is often treated as a rock star when she delivers talks in foreign countries.
Over and over Davis has held firm to her beliefs for which she has suffered government retribution.
In 1970 when Ronald Reagan was governor of California he intervened to strip Davis of her teaching job at UCLA due to her membership in the Communist Party. A few years later, she was placed on the FBI's most wanted list after she became a fugitive fleeing drummed up charges. Davis was eventually captured, becoming a Cause celebre in this country and overseas. The ensuing public pressure led to her release.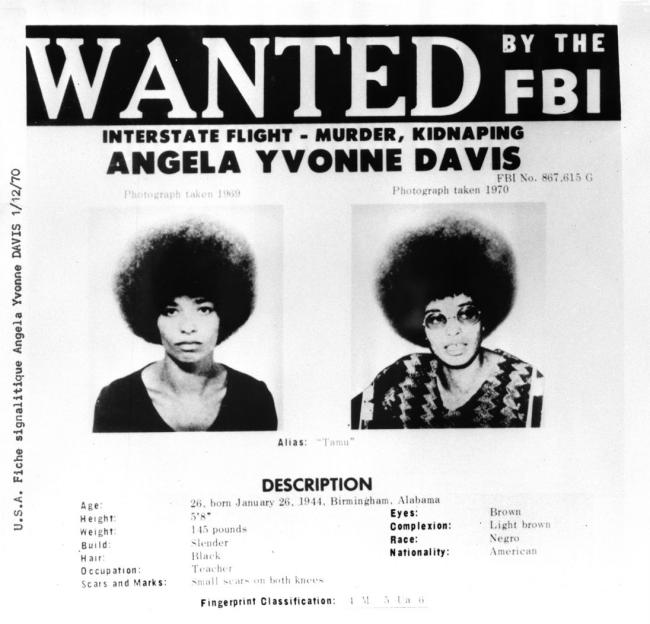 At 73, Davis is still a force to be reckoned with. I was blown away by her latest book, Freedom is a Constant Struggle: Ferguson, Palestine, and the Foundations of a Movement. While "intersectionality" is the new buzzword for change strategies, I didn't fully understanding it until I read this book.
Essentially intersectionality refers to a paradigm, which recognizes the interconnections of race, class, gender and sexuality.
Davis refers to this model as "the intersectionality of struggles," linking the leading social justice issues from Ferguson to Palestine to Istanbul. This linkage keeps movements from being fragmented and splitting off participants.
Davis describes how intersectionality came into play during the Ferguson protests when Palestinian activists, drawing on their experience with tear gas, texted Ferguson activists, advising them to stay close to the police, explaining the police would be reluctant to use tear gas if they thought it would affect them.
A major theme in "Freedom" is the interconnectedness of oppressed peoples to the prison-industrial complex exemplified by the global security company, G4S, the third largest private corporation in the world. G4s provides Israel's repressive apparatuses in Palestine while playing a growing role in the detention and imprisonment of immigrants in both Europe and the US.
I was also struck by Davis observation that successful protests are not dependent on a messianic leader. The US displays considerable attachment to the belief in the power of a strong leader. This thinking makes it harder to organize and to implement people power. However, the massive protests rising up against Trump offer hope for a renewal of people power.
Davis laments the way the "War on Terror" has made it convenient for the government to use "terrorism" to promote its repressive measures. Again, she notes the global implications as Palestinians, American Blacks and Muslims are all labeled terrorists.
The response of "All Lives Matter" to the "Black Lives Matter" movement ruffles Davis because "it glosses over racial violence." She notes, "If all lives mattered, we would not need to emphatically proclaim that Black Lives Matter."
Davis cautions against a limited view of reform. To advocate for 'better police and prisons' doesn't go far enough. Davis believes that we need to "reimagine security" where we abolish imprisonment as we know it." (I recently visited Cuba where it's illegal to sell guns—an example of imagining a non-violent country.)
In a recent speech before WOW (not this WOW, but I can dream—the WOW here was a London conference, "Women of the World.") Davis referred to the women's movement as one that has been "racialized" in its domination by white women. She commented that she's reluctant to call herself a feminist because of its association with privileged white women. Instead, Davis regards herself as an "intersectionality Black feminist."
Davis warned activists in the audience from expecting overnight results, implying we have to do the work now although we may not live to see the results. I was grateful for her efforts to temper activists, since it's all too easy to be consumed with impatience, wanting to see an almost instant turn-around in our country.
Freedom is a Constant Struggle signs off with this call to action:
We cannot go on as usual. We cannot pivot the center. We cannot be moderate. We will have to be willing to stand up and say no with our combined spirits, our collective intellects, and our many bodies.