As horrific as 2017 was, it offered a silver lining: successful women-led movements from the year's opening DC Women's March to the year's end #metoo campaign bolster hope for 2018. A new emboldened sisterhood is emerging. Older women are part of this sisterhood, raising their voices to rail against ageism and sexism and to claim their position as wise women.
In this post I honor the women who penned WOW guest posts in 2017. They represent the new older woman: fierce, wise and unstoppable! (Oh, and there's one man among these guest bloggers!)
Zoe FitzGerald-Beckett, a Maine writer, poet and holistic health coach

wrote about the restorative powers of women in community in her post, "Women's Sacred Circles."
A monthly Women's Sacred Circle can become a personal "power source" for finding ways to respond to, rather than react to, the darkness that is threatening our democracy and way of life right now.
Walker Thornton, a Virginia-based sex educator,

who believes that older women are just as entitled to sexual gratification as younger women, wrote the post, "Rekindling Sexual Desire."
In choosing to create sexual desire you are giving yourself permission. And whether you're single, lesbian, heterosexual or something else, you can have the kind of sex you want. It starts with you, with choice, conversation, awareness, and a desire to embrace your sexuality.
Gwen McCauley, a Halifax writer and life coach

described how play changed her life in the post, "I Can Play Too . . . if only I knew how,"
Not only did I begin to see myself and others in a different light, I discovered a path into that mystery called being playful. I knew intuitively that play was critical for deep relaxation and stress reduction. I hadn't realized how important it was to letting go of corrosive anger, to connecting deeply with people, to radiating positivity and to remaining physically and psychologically robust.
Janet Weil, a Palm Springs writer, poet and peace activist

wrote movingly of sorting through her deceased mother's belongings in her post, "After the Sobbing, the Sorting."
My mother's death was one of the most painful experiences of my life, a profound encounter with mortality – hers and mine. Though the cleaning and clearing process at first just seemed like more grim chores, this work helped me focus, show generosity to others, understand better the full scope of my mother's life, and move outward from the first anguished tears to an engagement with my family history – and the world.
Mary Beth Danielson, a Wisconsin blogger and writer

, wrote bravely of her long-ago rape in her post, "#MeToo." she describes how, like many women, she blamed herself for the rape.
Because I'd had three or four drinks over three or four hours. Because I'd already had sex once so I was no longer the virgin I was supposed to be. I was not acting the way they had raised me to act so I was getting what they said I deserved. The people who raised me loved me; it would have broken their hearts to hear this now, but it is true. I had internalized those narrow old messages from people I respected and loved.

Toni Kief, a writer and lifelong activist from Washington State

, wrote about her writer's coop, emphasizing the value of women coming together around a shared goal. Her post is titled, "The Choice is to Cooperate or Struggle Alone."
Lisa Savage, a Maine blogger, teacher and peace activist

, penned the post, "Parenting Adult Children," which identifies the tricky balance facing parents of adult children.
What is it that our adult children actually want and need from us? What are the contours of our own emotional needs to give and to nurture? Some of us older women had built an entire lifetime and identity on our role as nurturers. If we can take ownership of that as our thing we'll recognize that it may not always align well with our child's changing needs.
Shelly Schlueter, a writer and blogger from Ontario, Canada

described her solo trip to Africa to commemorate her 60th birthday: "Milestone Birthdays—the Gift that Keeps Giving."
Edwige Charot, a Millennial, lives in Portland, Maine

where she operates Creative Approach Co., a strategy and design consultancy. Her post, "A Daughter-in-Law's Take on Mothers-in-Law" looked at the patriarchal influences in the mother-in-law/daughter-in-law relationship.
In the interest of acknowledging male feminists, there was  a guest post by

Ed Mooney, 
a Portland, Maine retired academic

. In "Learning a Different Voice: Feminism for Males," Ed 

shared how the women's movement has sensitized him and helped to free him from confining male stereotypes.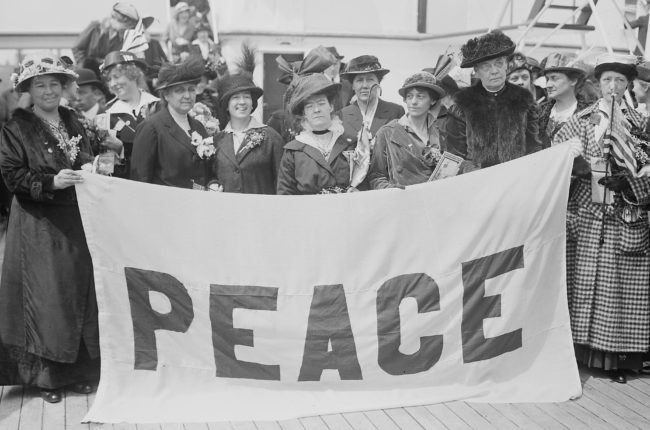 Wishing All a Peaceful New Year!