The Trump wrecking machine is getting crazier by the day, leaving a frightened populace in its wake.
Our increasingly unhinged president raises the ante through his racist speeches, threats to bomb the country du jour, attacks on the environment, ICE's immigration raids, and railings against anyone who doesn't agree with him.
While a creditable segment of American society has challenged Trump by protesting his policies, many are managing their fears by avoiding the news, escaping into their screens, and praying for an imminent impeachment.
One doesn't have to feel trapped by fear.
 If you engage with fear in the Buddhist tradition, you can actually be empowered. Joanna Macy, the Buddhist teacher, who offers workshops that focus on fear, believes that fear can be transformative.  To quote Macy:
People fear that if they let despair in, they'll be paralyzed because they are just one person. Paradoxically, by allowing ourselves to feel our pain for the world, we open ourselves up to the web of life, and we realize that we're not alone. I think it's a cardinal mistake to try to act alone.   . . . The response that is appropriate . . .is to grow a sense of solidarity with others and to elaborate a whole new sense of what our resources are and what are power is.
In other words working in community is a great antidote to fear.
I experienced the power of community in my church this past Sunday when we formed an impromptu discussion group to process our feelings about the protests that turned violent in Charlottesville. After airing their feelings, the group committed to finding a way to build community among those with different beliefs, floating the idea of "listening groups." Participation in the discussion energized the participants who expressed feeling hopeful as they left the room while promising to continue the conversation on future Sundays.
The psychotherapist Miriam Greenspan cautions that fear "constricts us and keeps us from living fully."
Maybe this explains the insomnia and rapid heart beats many experienced following Trump's election. Like Macy, Greenspan perceives fear as an opening:
When we are able to tolerate fear, and to experience it consciously, we learn not to be afraid of it. This gives us the freedom to live with courage and enjoy life more fully. This is the alchemy of fear to joy.
From fear to joy?  How is this possible?
Greenspan believes that engaging with fear allows us to open our hearts and be better able to connect to the best part of others, and ourselves because we are all afraid.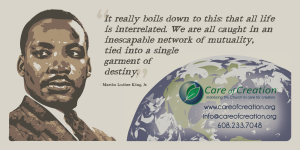 For Greenspan we are "intervulnerable," meaning that we suffer together.  She encourages people to band together to use their common fears towards affecting change. Martin Luther King spoke similarly when he referred to our "inescapable web of mutuality." Protest signs, which proclaim, "Love trumps hate," reflect this teaching.
Gratitude can play a big part in engaging with fear.
When I face my fears and join with others in common pursuit, I feel hopeful, for which I offer gratitude. There's something almost magical about thanking the universe for a piece of good fortune. It's like turning on a light in a dark room. Gratitude allows our souls to shine.
Another way I engage with fear is to celebrate the ways history has been changed by small groups that evolved into movements.
I derive considerable inspiration from the Suffragettes, the Montgomery Bus Boycott, and more recently Occupy Wall Street and Standing Rock. While the latter movements didn't have complete successes, they planted seeds that continue to inspire. The members of these movements faced their fears and joined with others to transform society. We can follow the footprints of our predecessors or be cowards.
In the infamous words of Margaret Mead:
Never doubt that a small group of thoughtful, committed, citizens can change the world. Indeed, it is the only thing that ever has.