Recapping My Birthday Weekend
I returned home in the wee hours of Tuesday morning after a wonderful Birthday weekend in LA, courtesy of youngest son Jonathan who lives in nearby Santa Monica. The highlights were seeing Hamilton; an exhibit of Chagall's costumes for the Paris Opera at LACAMA (Los Angeles Country Museum of Art); the Santa Monica farmer's market; and non-stop eating at some memorable restaurants. At one small tucked-away eatery I spotted Angela Lansbury who sat in the far back, presumably to avoid being recognized, although not by my eagle eyes.
The Sad State of Our Country
It becomes harder and harder to stay afloat as the national crises keep mounting. The Las Vegas massacre should be the undeniable boost to gun control, but we all know it won't happen given the NRA's power. My heart bleeds for Puerto Rico. I can't help but wonder if Trump is devoid of handlers or if he brushes them off. Why wasn't anyone there to stop his ridiculous act of throwing paper towels to the crowd in San Juan? I feel like I'm living in an alternative reality.
A Good Read
My youngest brother sent me a wonderful book for my birthday, The Fortunes by Peter Ho Davies. It describes the life of Chinese immigrants living in San Francisco in the late 1800's. There are moving passages of the vast discrimination faced by the new Chinese residents, who worked under slave conditions to build the country's first railroads. Ho Davis is a gifted writer. I was dazzled by the book's opening sentence, "It was like riding in a treasure chest." This is the voice of the narrator, a Chinese manservant, on occupying the private train car of the railroad baron who employs him.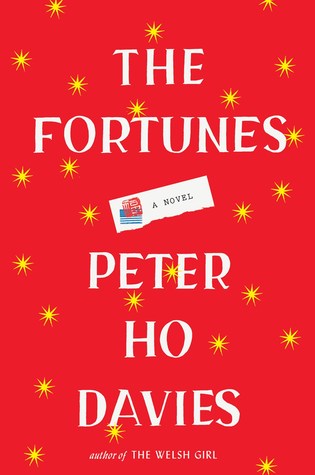 Scavenger Hunt Awaits
I'm looking forward to tomorrow's Scavenger Hunt, which I'm co-hostessing– I know this verbal form doesn't exist but I'm playing around with creating feminine forms when appropriate– with a young woman from my church. It one of our church's fall social events where members volunteer to host(ess) a social event. We have some wacky items to track down. I'm looking forward to a fun-filled event to take my mind off you-know-who.